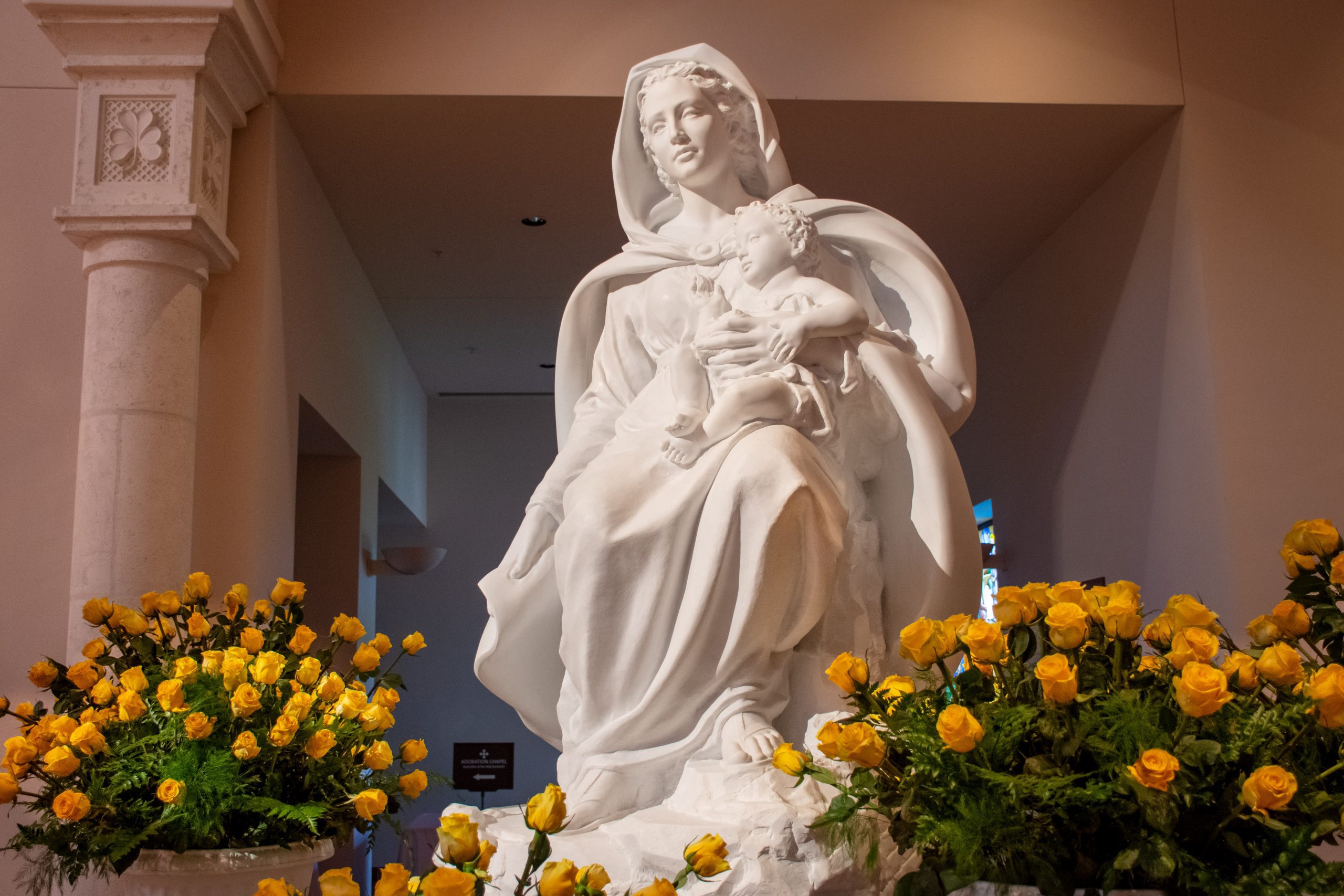 ORLANDO | Supporters, old and new, celebrated the 25th jubilee of the dedication of the Basilica of the National Shrine of Mary, Queen of the Universe, November 18th.  Coming from as far away as Italy, patrons, volunteers, and even some of artists of the shrine, participated in Mass and a reception. It was the culmination of a full weekend of activities recognizing a milestone in the history of this unique and holy place in the midst of the well-known tourist attractions of Orlando.
Alongside Bishop John Noonan, Father Paul Henry, rector of the shrine (since 2011), celebrated the Mass with his two predecessors, founder Monsignor F. Joseph Harte (1975-2007), and Father Ed McCarthy (2007-2011).
In his homily, Father Henry spoke of the vision it took to realize the dream of the shrine. "Things can have humble beginnings and yet great things happen," said Father Henry. "This house of God is an oasis for people. Beyond the beauty, there is absolution, blessing and the Eucharist; the Truth of Christ will always be available and kept in this holy place."
Founding rector and visionary of the shrine, Monsignor F. Joseph Harte exclaimed, "It was Mary. Mary built this shrine! It was a miracle and the shrine committee and all the dedicated people are part of the miracle. I couldn't have done it without the Mother of God."
An impossible dream
By 1975, more than one million people per year began visiting the recently built Disney World prompting the Diocese of Orlando to organize Masses for the growing tourist population and named (then) Holy Family pastor, Father Harte, to spearhead a "tourist ministry".  Beginning in hotel ballrooms, Father Harte and other priests celebrated weekend Masses with visitors. As the crowds grew, hotels needed to use space for other purposes and began relocating worship last minute to alternative tiny spaces and even the pool deck next to the bar.
"There would be 700 people in a 200-person room," described Msgr. Harte. "We knew this couldn't go on forever." The idea of a new parish in the attractions area came up, but there were no permanent parishioners to sustain it, so it was quickly dropped. Father Harte and a group of advisors began having meetings and the inspiration for a shrine, a spiritual oasis in the middle of the busy tourist sector was born. "I met with Bishop Grady, who wanted to have the shrine, and he gave me a free pass," recalls Msgr Harte. "He told me do what you want, but don't get us into debt."
The plan was quite ambitious. Msgr. Harte describes how the committee would have meetings, sometimes until 2:00 a.m. and yet they had no money to bring their plans to fruition. Monsignor Harte recalls in his book, They Shall Bear you Up, how his priest friend said to him "Joe Harte, you must be out of your mind!", to which he replied "Nothing is impossible with God." They began fundraising, even carrying roof tiles to the hotels to encourage support.
Dream Realized
After years of planning and fundraising, they broke ground on December 8, 1984, the Feast of the Immaculate Conception, on the first building, today the bookstore and museum, which would be used for Mass until the main sanctuary could be built. In the summer of 1985, Masses began in a small tent on shrine property while the first building was well underway. In 1990, groundbreaking began for the sanctuary and three years later on January 31st, 1993, Mary's Shrine was opened, then dedicated on August 22nd of that year. Since then, the one of a kind stained glass windows, bronze and marble sculptures, colorful mosaics and other works of art have been added to the shrine, along with a memorial rosary garden, museum, pilgrimage display, and a Perpetual Adoration chapel. In 2009, Mary's Shrine was designated a minor basilica by Pope Benedict XVI.
"We are a mission of the Diocese of Orlando," shared rector, Father Henry. "Our job is to reflect the best of the Church, to bless and welcome, to provide Reconciliation and Eucharist. Part of that story is reflected in the art. We communicate with God through His Word, through liturgy and music. All that God has made is beautiful. Some places (like the shrine) heighten our sensitivity to that Presence in our lives; to get away from the maddening crowd; every soul needs that."
Beyond the aesthetics, Gina Schwiegerath, Director of Operations, describes the ministry that is Mary, Queen of the Universe Shrine. "We welcome people from all over the world, even people from other faiths. Some people don't know why they are here. We love on people and interact with them. Maybe someone has fallen away and needs a safe place to come back; dip their foot in the water. Whatever the reason, we minister by saying hello or praying with people, if they want that. I have even seen our maintenance guy praying with people. It is amazing what this (shrine) provides to people."
The Dream Continues
Today, the shrine welcomes approximately 10,000 people each weekend during 5 Masses. Lines for confession can extend out the door, with an estimated 27,000-30,000 confessions heard every year. For this reason, the staff has completed an expansion of the confession area, to include two confession spaces, a waiting area with benches, and a soon-to-be installed marble relief depicting a scene from the life of St. John Vianney, patron saint of priests and confessors.
A new pipe organ will be installed in the near future. Father Henry, who is working with Bishop John Noonan on a 20-year plan for the future says he hopes there could one day be a café, perhaps a larger gathering space, a place for retired priests to lead people in prayer and even a large, iconic statue of Our Lady outside that can be seen from Interstate 4.
"We are blessed to have such a beautiful shrine in our diocese," said Bishop Noonan. "It is a reminder to all Catholics that Our Lady has given us a special gift, her son Jesus Christ. Mary gave her life so we could come to know her son. It is her wish that we get to know Him. We thank the Lord for these 25 years, to bring forth the wishes of Mary to know her son; to know He is the Way, the Truth and the Life."
By Jennifer Powers, Florida Catholic Correspondent – November 19, 2018