December 7, 2023 – The Immaculate conception of the Blessed Virgin Mary Vigil Mass
6:00pm
December 8, 2023 – The Immaculate conception of the Blessed Virgin Mary Mass
9:00am, 12:00pm, 6:00pm
December 10, 2023 – Pilgrimage in honor of our Lady of Guadalupe
2:00pm
After the noon Mass, parishioners from all parishes are invited to gather at the Basilica for a pilgrimage in honor of Our Lady of Guadalupe. As you arrive, you will encounter the Blessed Sacrament. We are blessed to park and participate in Eucharistic adoration.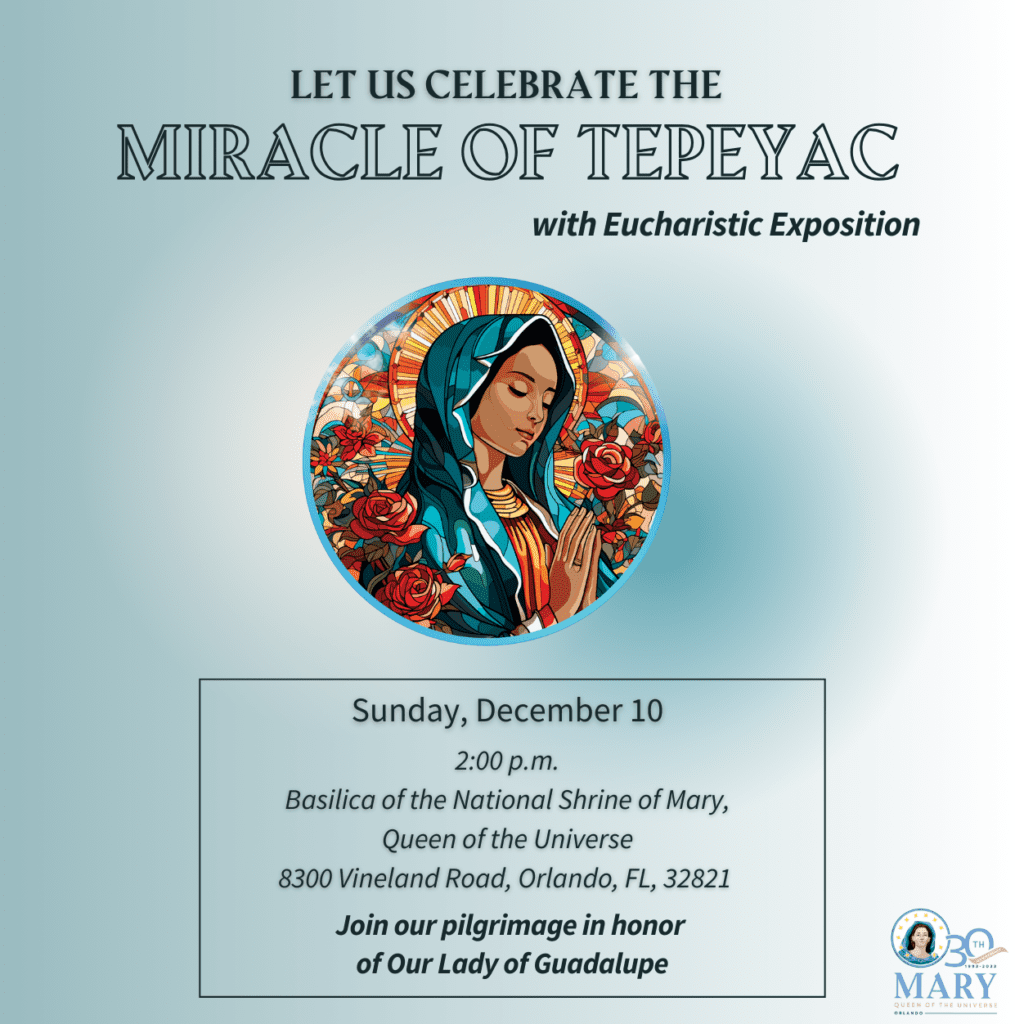 December 15, 2023 – Christmas with the BAsilica Choir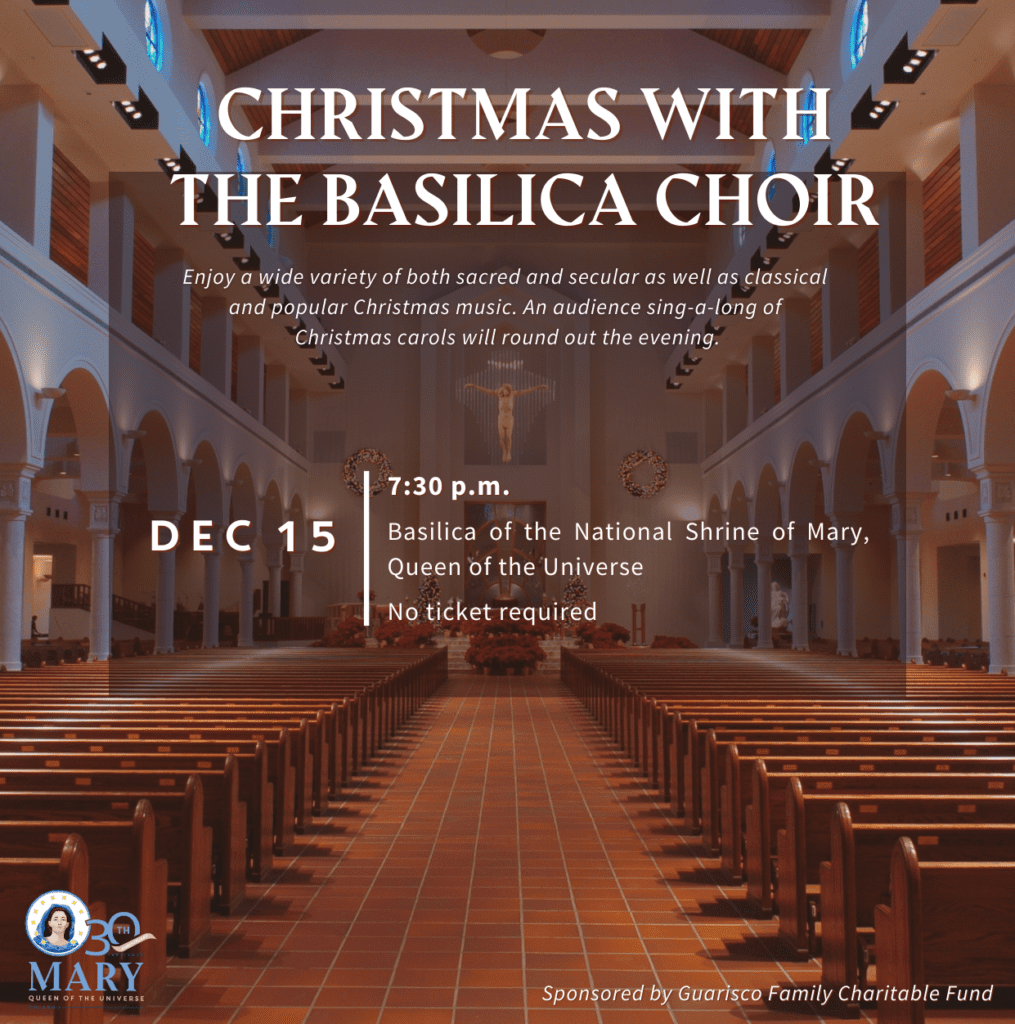 7:30pm
The Choir and 40-piece Orchestra of the Basilica of the National Shrine of Mary, Queen of the Universe will present "Christmas with the Basilica Choir as part of the Basilica's 2023-2024 Concert Series.
At this popular event, the Basilica Choir will present a wide variety of both sacred and secular as well as classical and popular Christmas music. An audience sing-a-long of Christmas carols will round out the evening.
The concert is sponsored by the Guarisco Family Charitable Fund. No tickets are required and all are welcome. The Basilica of the National Shrine of Mary, Queen of the Universe is located at 8300 Vineland Avenue in Orlando, near the Lake Buena Vista exit of I-4 (exit 68). Complimentary parking is available.
December 17, 2023 – Greccio Celebration
1:00pm-2:00pm
Join in the 800th jubilee of the first nativity scene founded by St. Francis of Assisi in Greccio, a small town in Italy. Procession, reading, singing and a reception.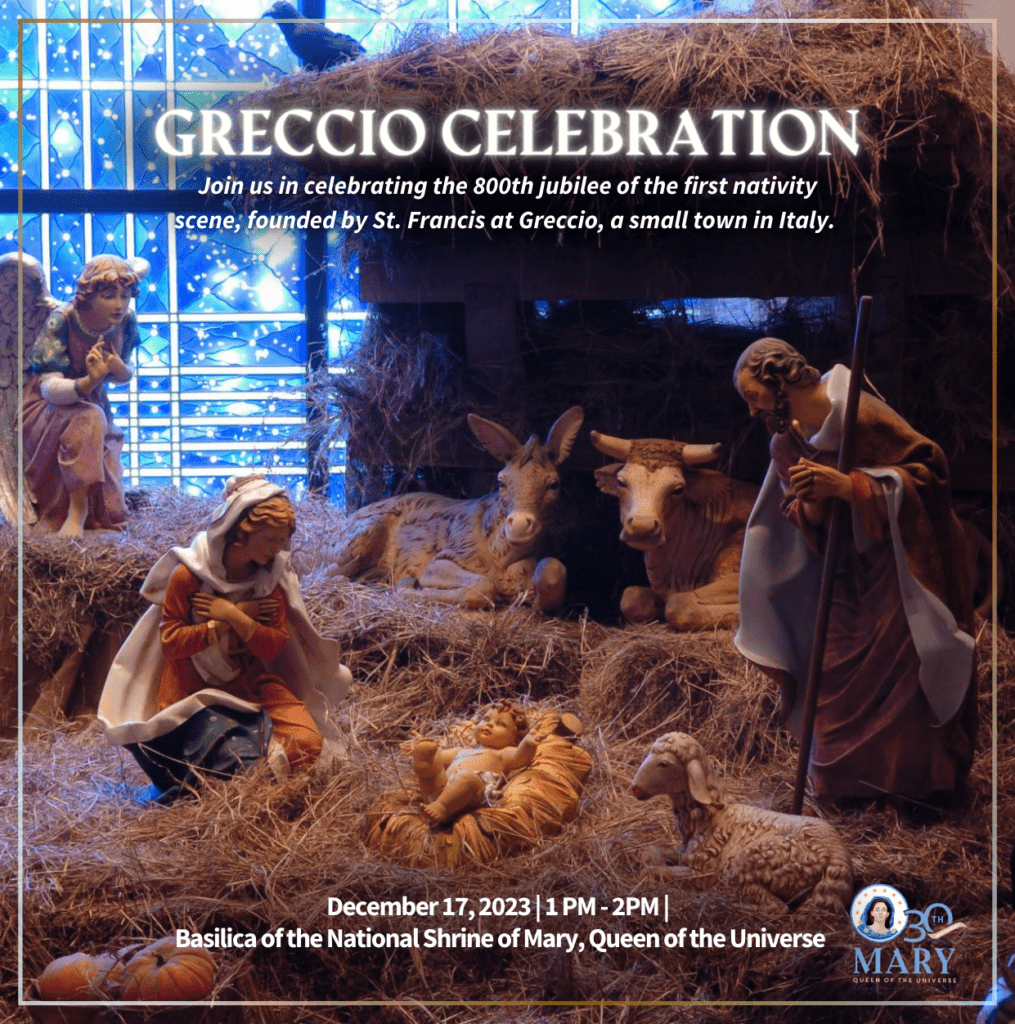 December 24, 2023 – Christmas Eve MAss
6:00pm, 10:00pm
December 25, 2023 – Christmas Day Mass
8:00am, 10:00am, 12:00pm
February 10, 2023 – Pilgrimage of the Sick
9:00am – Rosary during Prayer Service
10:00am – Confession
12:00pm – Holy Mass
The Sacrament of Anointing of the Sick will be celebrated throughout the day.